In 2023, Pharmaprogress will move into a more spacious, convenient, and state-of-the-art building in the Ancona area. Luca Gramaccioni, General Site Manager of Pharmaprogress, and his team are excited about having more room soon:
"In 2001, Pharmaprogress was established in the current building. After 20 years the team increased from the original 6 to 26 people today. We now need more space to meet the ever-increasing demand for our services."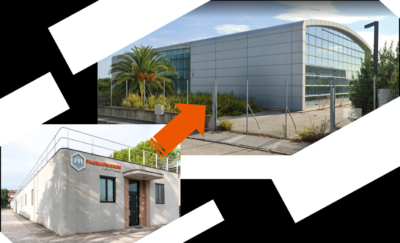 The new premises, however, are far from being the only investment Kymos has recently made in its Italian branch. The team at Pharmaprogress is absolute experts in extractables & leachables, nitrosamines screening and impurity characterisation. To take these services to the next level of quality in terms of specificity and sensitivity a high-resolution mass detector (Orbitrap system) was newly bought.
Luca Gramaccioni explains why he and his team were so eager to have the instrument up and running:
"So far, we have been able to meet the demands of our client's challenging projects with a great deal of knowledge and creativity. Now, the Orbitrap system's high-resolution power, high frequency sampling, and multiple libraries make our lives much easier, and additionally allow us to tackle projects we were not able to perform before."
That is not all that has happened at Pharmaprogress recently. During 2021, Pharmaprogress expanded its OINPD batch testing with a new NGI impactor and largescale routine QC activities are now in progress. In parallel, a LIMS system was established in line with the goal of a paper-free laboratory.
Dr. Gramaccioni comments: "The LIMS system is an unbelievable relief for our daily work and enables us to work on projects even faster and more efficiently. For our clients, however, the introduction of the digital signature in the Empower software is also very interesting. With the help of this new feature, we can make raw data available to our clients much more easily. Pharmaprogress has always had very high quality standards. But with the new equipment, software solutions and the new building, we are taking our laboratory and our work to another level. "
You would like to know more about the innovations and existing services of Pharmaprogress and the entire Kymos Group? Meet Luca Gramaccioni and his team at the 61st AFI Symposium from 08-10 June in Rimini at stand no. 17. They will be delighted to give you a deeper insight. Or send an e-mail to commercial@kymos.com.